OUR SERVICES
Our authors receive 100% of their book royalties.
In 2019, we are upping the game - first that new name! Authors will have to negotiate an upfront cash payment for editing, interior book layout, the e-book epub, an author book website, ISBN, and book cover design with Trace, etc... She will help you set up an account with Amazon's KDP to produce the ebook then a paperback.
Email: bluehandcollective@outlook.com

There are quite a number of online resources for finding markets for your creative work. Some, like Submittable, offer the ability to conveniently track your submissions.

VIA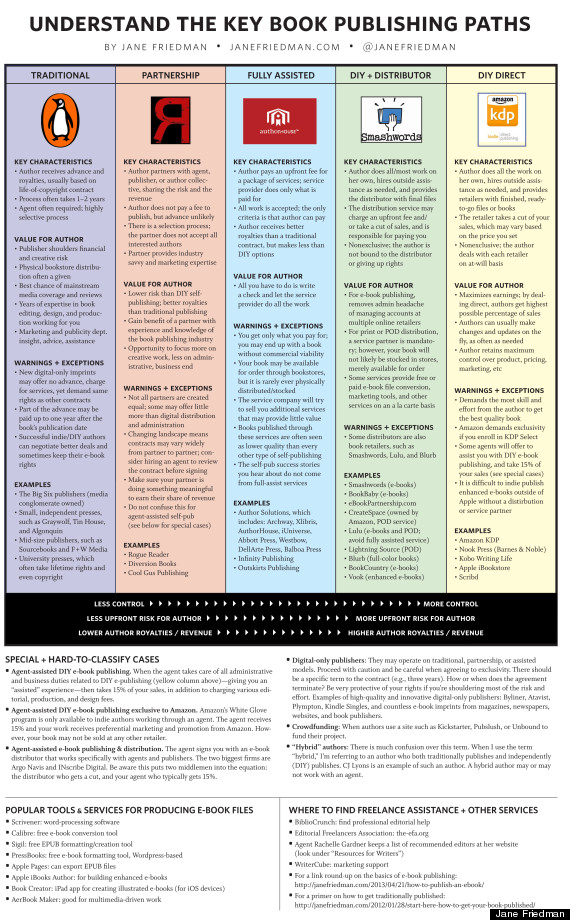 right click to save and enlarge
Update on Kindle:
Kindle Create Now Also Available in Dutch, French, German, Italian, Portuguese and Spanish
We launched Kindle Create in December and thousands of KDP authors have since used Kindle Create to help them publish their eBooks. Thanks to their feedback, the latest version of Kindle Create now includes support for formatting eBooks written in French, Italian, German, Spanish, Portuguese and Dutch languages, in addition to English. The Kindle Create interface is also available in these languages. With Kindle Create you can:

Automatically find chapter titles and create a Kindle table of contents
Review and select visual themes designed to suit the genre of your eBook
Preview your eBook to see what readers will see—and make the changes you want
Quickly format using various book elements like First paragraph, blockquote, separators and more

Kindle Create works with .doc and .docx files exported from any source, including Microsoft Word, Apple Pages, Google Docs, and other applications. It also supports creation of interactive textbooks from PDFs. Kindle Create is available for PC (Windows 7 and above) and MacOS (10.11 and above).

More information about Kindle Create is available here.
For any questions or feedback, please click here to contact us.


---

Preview and validate your books faster with Kindle Previewer 3!

You can now use Kindle Previewer to get a bird's eye view of your book and quickly validate the overall layout. When Enhanced Typesetting is enabled for your book, you can preview pages as adjustable thumbnails, allowing you to validate your book faster than before. The new update lets you:

Review multiple pages at once, with the ability to adjust the size of the preview pages to your preference.
Easily identify and preview key aspects of your Enhanced Typesetting enabled book, such as images, links, tables, lists, drop caps and table of contents.

For more information, click here to visit our help page.
Kindle Direct Publishing Team
***
Here's what the author "sell sheet" needs:
Book cover image
Author photo
Description of contents
Author credentials
Contact information

Detailed title information including:
Publication date and genre
ISBN and pricing
Formats
Retail outlets


How to write a book synopsis
A quick Internet search returns plenty of articles and advice on how to write a great book synopsis — mostly geared toward sharing your book with an agent or editor as a means of selling your book. (Here's one by
Jane Friedman
, another by
Marissa Meyer
, another from
NowNovel.com
, and here's a
collection of synopses
that won their authors contracts with agents and publishers.